[Research | Projects | Publications | S&D | Education | Jobs | Staff]
LREC 2000 workshop
From spoken dialogue to full natural interactive dialogue.
Theory, empirical analysis and evaluation.
Held in conjunction with the
Second International Conference on Language Resources and Evaluation (LREC 2000)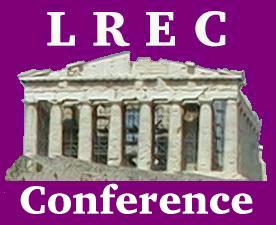 Athens, Greece Monday 29 May 2000, 8.50-13.20



| | |
| --- | --- |
| Sponsored by Elsnet, the European Language and Speech Network | |
| | Endorsed by SIGdial, the Special Interest Group on Discourse and Dialogue of the Association for Computational Linguistics |
Workshop Description
Spoken dialogue systems have been in the marketplace since around 1990. Whereas the first systems only had single word recognition there has been a steady development towards increasingly natural spoken dialogue. The most advanced current systems still work within a limited task domain but some are capable of understanding and replying to fairly long user utterances, coping with various kinds of initiative, and taking a variety of contextual issues into account.

Naturalness, as perceived by the user, is closely connected to properties such as allowed user utterance length, grammar, vocabulary, style and initiative. Depending on task and situation, perceived naturalness is also connected to how the user can interact with the system. In human-human communication we normally do not restrict ourselves to using speech-only but also include gesture, facial expression, and bodily posture and we often draw on other information sources such as diagrams, maps and drawings.

Natural interactive dialogue and conversational systems are moving centre-stage because of increasing interest in adding other modalities to achieve a larger potential than speech alone can offer. Several recent conversational prototype systems include one or several natural interaction modalities in addition to speech. However, there are many open questions and unsolved or insufficiently explored problems related to extending spoken dialogue management and dialogue interfaces to enable increased natural interactivity.

The workshop aims to bring together researchers and developers in the area of natural interactive dialogue. The goal of the workshop is to highlight and evaluate empirically based theories and methods for natural multimodal conversational dialogue management and dialogue interfaces, and their evaluation. Focus will be on key issues such as dialogue initiative, reference, communicative acts, feedback, and cooperativity. See also the more detailed list of proposed topics.


Important Dates
Deadline for submission of extended abstracts: 10 March 2000

Notification of acceptance/rejection: 27 March 2000

Deadline for submission of accepted papers: 10 April 2000

Workshop: 29 May 2000


Submission Details
Extended abstracts should be around 4 pages in length. Final papers should not exceed six pages. Extended abstracts must be submitted electronically to laila@nis.sdu.dk and must be in postscript or rtf format. Please write "LREC2000 workshop paper submission" in the subject line.

Final paper style format is available here.


Registration
The registration fee for the workshop is
if you are attending LREC: 40 Euro
if you are NOT attending LREC: 80 Euro
The fee includes a coffee break and the workshop proceedings.

Participation in the workshop is limited by the venue. Requests for participation will be processed on a first come first served basis. Registration is handled by the LREC Secretariat.


Conference Information
General information on LREC: http://www.icp.grenet.fr/ELRA/lrec2000.html Specific queries about the conference and registration for the workshop:

LREC Secretariat
ILSP
6, Artemidos & Epidavrou Str
15125 Marousi
Athens
Greece

Phone: +30 1 6800959
Fax: +30 1 6856794
E-mail: LREC2000@ilsp.gr


Venue
The workshop will take place at the ZAPPEION MEGARON, the venue of the LREC 2000 conference. Participants are kindly requested to organize hotel reservations via the local LREC organizers.


Program Committee
Laila Dybkjær, Natural Interactive Systems Laboratory, Odense, Denmark (chair)

Niels Ole Bernsen, Natural Interactive Systems Laboratory, Odense, Denmark

Justine Cassell, MIT Media Lab, USA

Ronald Cole, Center for Spoken Language Understanding, University of Colorado at Boulder, USA

Björn Granström, Dept. of Speech, Music and Hearing, KTH, Sweden

Joseph Mariani, LIMSI-CNRS, France

Dominic W. Massaro, Dept. of Psychology, University of California, USA

David McNeill, Dept. of Psychology, University of Chicago, USA



Sharon Oviatt, Center for Human-Computer Communication, Oregon Graduate Institute of Science & Technology, USA

Oliviero Stock, IRST, Italy

Jan van Kuppevelt, IMS, Universität Stuttgart, Germany
Contact Person
Laila Dybkjær
Natural Interactive Systems Laboratory
Odense University
Science Park 10
5230 Odense M, Denmark

Phone: +45 65 50 35 53
Fax: +45 63 15 72 24
Email: laila@nis.sdu.dk



---
[Research | Projects | Publications | S&D | Education | Jobs | Staff]